How You Can Win the Fight Against Weeds
I've heard the argument. You've heard the argument. Perhaps you have even made the argument, yourself.
"I have had my lawn treated for years. Why do I still get weeds? There shouldn't be any weeds in my lawn anymore."
Wrong.
ALL LAWNS HAVE WEEDS.
ALL OF THEM.
Even the greatest golf course you can think of has a wide variety of weeds, lying just beneath the surface, waiting for the right time to make their presence known.
Animals will occasionally carry seeds in their fur (they do not do this to make you angry, small seeds just get stuck in their fur, and fall out as they move from place to place), the wind blows them in from untreated properties in the area, some seeds have been there in their dormant stage for more than a decade. These seeds are just waiting for conditions to become favorable, and then they break the surface, and ruin your day.

Three things are needed for any life form, even one as horrible as a dandelion, to live and grow;
The life form (a seed, fungus, disease, even people)
A conducive environment.
Opportunity.
That's it. Once the trifecta has been completed, the weeds will come, and all we can do is use post-emergent weed control to get rid of them before they can produce more seeds.
There are steps you can take to make your lawn less conducive to the presence of weeds;
Reduce bare areas.
Thick, healthy turf will always be your best defense against weeds and disease. If there are no bare areas, there is less opportunity for the weed to grow (the grass will choke them out).

Bare areas along paved surfaces provide not only the space for a weed to grow, but also, an attractive heat source. Seeding thin turf, or bare areas, in early autumn, is the best way to keep your lawn thick and healthy (we will cover this in depth, in a later post).
Regular, deep watering, of the lawn.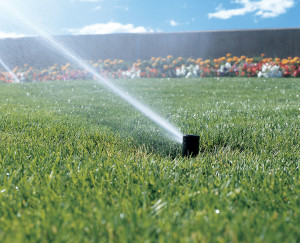 Most weeds prefer a dry, hot environment. This is the exact opposite of what keeps your lawn healthy. Often, people want to save money in the hottest part of the summer, by allowing their lawn to go dormant, rather than watering. This reduces the overall health of the turf, and leaves a variety of nutrients for the weeds to feed on.
3.  Keep an eye on your property.
Hiring a turf care service is not a "one and done" scenario, it is a partnership. Unless you hire a full-time gardener, who spends forty hours a week on your property, you will always see your property more than your lawn technician.
With that in mind, if you see a weed, in the time between your regular applications, call and let your service know.  Time is of the essence. The weed needs to be treated before it can produce seed.
Any legitimate turf care company should offer a service guarantee. That means they will come back to your lawn and reapply purchased applications, free of charge, whenever the need arises. Remember, in order to prevent harm to the turf, you will need to wait 10-14 days after the first application, before spraying new weeds.
If your lawn has had issues with weeds, in the past, and you want them to stop, give us a call at 219-996-2682. Not a current customer? You can request a free quote from the RLM team right on our website.  We will meet you on the property, and create a plan to bring your lawn up to the standard you are looking for.