Mistaway Systems
RLM is the only authorized dealer, installer, and maintainer of Mistaway Systems in Northwest Indiana. Mistaway Systems are state of the art misting systems that enable you to enjoy your outdoor area – mosquito free!
Having one of these systems installed will help rid your yard of other irritating insects such as fleas, ticks, spiders, flies, and gnats. Mistaway Systems also supports the control or prevention of the harmful diseases that Mosquitoes carry.
Once your Mistaway system is installed, we also encourage you to let us maintain it for you through our Mistaway System Service Program.
Each year Ricci's Landscape will perform: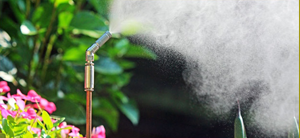 Mistaway System Startup: After being cleaned and stored at RLM, the unit will be reinstalled, nozzles adjusted, mosquito repellent and cleaning solution added. In addition, our certified technician will test, diagnose, and perform any repairs needed to ensure the system is working properly.
Mistaway Mid-Season Check: The system will be tested and repaired (if needed), Mistaway nozzles adjusted, and Mosquito repellant refilled.
Mistaway System Winterization: System will be blown out and cleared of any moisture in the lines and units will be picked up, cleaned, and stored with RLM over the winter.
Contact Ricci's Landscape today to schedule an appointment to learn how you can have one of these systems installed so you can enjoy your beautiful landscape without the nuisance of mosquitos, ticks, and spiders.