Your Commercial Grounds Maintenance Company in NW Indiana
A premier grounds maintenance company in Northwest Indiana, Ricci's Landscape provides commercial lawn maintenance and landscape services for some of Northwest Indiana's most well-known properties. We partner with our clients to help maintain the safety and value of every location.
Our maintenance division specializes in and offers all-inclusive Commercial Landscape Maintenance programs that provide you with all the services and care that are essential to keeping your property looking its best. Weekly or monthly commercial grounds maintenance services in Crown Point, Valparaiso, Munster, Chesterton and surrounding areas include:
Mowing, weeding and edging
Spring & Fall Cleanups
Mulching and bed edging
Annual Color Programs
Organic Lawn Care
Irrigation Startup, Backflow testing and winterization
Annual Color Program
You work hard to maintain the success of your business, so let Ricci's Landscape Management help you maintain the visual appeal of your landscape with our Annual Color Program.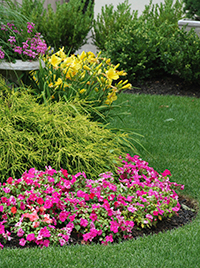 At Ricci's Landscape Management, Inc., we welcome the opportunity to help you keep your business's landscape looking vibrant and colorful year-round. Our knowledge of commercial landscaping, combined with our experience in landscape design, allows us to coordinate and develop the finest floral display that is appropriate for each spring, fall, and winter season.
With our Annual Color Program, there are a variety of options when it comes to the types and colors of flowers to choose from, including: Mums, Tropicals, Begonias, and Geraniums. Our seasoned professionals will help you design a customized layout that is right for your property's landscape, and together, we will create a display that will make your business stand out.
Ricci's Landscape Management Inc., only works with the best nurseries in the area to ensure that you receive the highest quality flowers for your business. When you sign up for our Annual Color Program, you simply place an Annuals order based on your creative vision, and our team of professionals will bring that vision to life by customizing your landscape, preparing existing flowerbeds, or creating new flowerbeds prior to installation.
Ricci's Landscape Management will help your business make a lasting, positive impression on your customers or clients with an enhanced landscape design. Make a statement about the quality of your business with our Annual color display.