When is National Garden Month?
National Garden Month begins in April – so it's a little less than two weeks away!
The history of National Garden Month dates back to April 18, 1986, when President Reagan signed a proclamation for National Garden Week. The first National Garden Week took place from April 12 – 18, 1987. Legislation for the week's activities is determined by the National Garden Bureu.
In 2002, a week of garden celebrations turned into a full month of activities centered around everything gardening-related. This change occurred thanks to the National Gardening Association, and today, we still celebrate National Garden Month for the entire duration of April.
So now that you have the background, let's explore five things you can do to celebrate!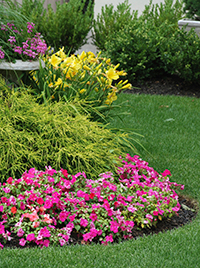 Five Ways that You Can Celebrate National Garden Month
Volunteer in the Community
Gardening extends beyond flowers! National Garden Month is an excellent time to work with local charities and communities to plant food for the hungry or less fortunate.
Plant Your Garden Just In Time for Spring
What better time to start your seasonal planting efforts than National Garden Month? Celebrate the joy of growing new life by researching new plants to add to your garden and planning your landscape – just in time for the warmer weather ahead.
If you're a little more trendy, you might enjoy a newer trend that's making waves in the landscaping industry: DIY terrariums. Terrariums are a modern, exciting way to grow flowers and plants, and for the crafty among us, it's a great way to add beauty to your home while getting the satisfaction of building from scratch.
Join a Local Gardening Club
You might be surprised how many gardening clubs are close to your home, and many of them become very active during National Garden Month. If you're not sure whether you want to commit to joining long-term, check out some activities that local clubs have planned for this month and try it out. You might just find your new favorite community!
Check Out Public Gardens Nearby
A great activity for families is to take a day trip to local, or nearby, public gardens. With gardens open to the public becoming a family-favorite activity, the dedication and care to creating beautiful attractions has become even more apparent in recent years. Gardens don't have to be built by your hands to be appreciated, and even if you don't have the yard or landscape to build your dream garden today, it's still a sight worth seeing!
How do you celebrate National Garden Month? We'd love to find out! If you have any tips to share, or you're interested in our professional landscaping services at RLM, fill out our online contact form or call to speak with one of our experts. We look forward to hearing from you – and we wish you a very happy National Garden Month!