Take a Note from April's Playbook, and Start Planning This Year's Floral Design
At Ricci's Landscape Management, we believe that you can never get too colorful with your landscape.
After all, landscape design is often considered an extension of one's personality, and you deserve to let your character shine.
Now that we've made it through the rainy month of April, it's that time of year when flowers come alive, plants grow tall, and neighbors whistle as they work outside. It's also the time when we look over our landscape and wonder, "what can I do differently this year?" If floral design for your landscape is a viable option, then we have just the tips for you!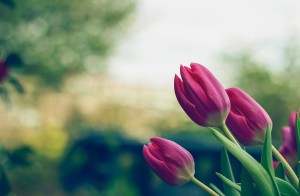 Colorful Designs Start with a Strategy
Whether you're planting a garden or writing an essay, all projects require an organized and strategic approach. At RLM, we like to say that it all begins with a vision.
We recommend that you run through some quick questions to review your approach last year:
What flowers did I plant last year, and how were they arranged?
Did all of the flowers survive? If not, why?
Did the plants have enough room to grow and thrive?
Once you refresh your memory on what's worked in the past, you have a great starting point to continually improve your the success of your landscape moving forward.
If there are plants that didn't work out last year, don't give up on them quite yet! Sometimes, plants require a small change to make a big impact, whether that change involves the use of a new type of soil in your landscape, or placing your plant in more direct sunlight.
Now, we move to the fun part: creating a visual reference for your landscape!
Your vision can come to life on any canvas that you prefer, but at RLM, we prefer the simple approach. Armed with a pencil and paper – preferably graph paper – you can draw out your landscape and pinpoint specific areas where you will be planting this year. Try to plot out the area that you have to work with by: 1.  assigning relative values for height and width of each flowerbed, and 2. accommodating for any new additions to your landscape that might not have been factored in yet.
Considerations to Keep In Mind During the Planning Phase
Every floral enthusiast knows one hard truth: not every flower type will work in your landscape. But hey, that's ok – that's why we plan!
Here are some considerations to keep in mind when picking out your landscape's newest plants and flowers:
How much sunlight does the plant require?
Do any plants require a particular type of soil? Will that soil work in your landscape?
How tall will the plant grow? How wide will the plant grow?
While you can approach planning in a few different ways, don't forget that the ultimate goal is your happiness. It seems silly, but envisioning the end result is a commonly overlooked stage of planning. Even if all of your plants grow perfectly side by side, it's easy to forget that you'll be experiencing the chosen colors and design all Spring and Summer long ( if nothing changes!) At RLM, we're truly passionate about our work with landscape and floral design, and we want you to experience that passion too. There's a reason that we say that the best landscapes are the ones that are truly enjoyed and appreciated!
Go with a Professional Service: Try Our Annual Color Program
If you have a vision but lack the time or desire to bring it to life, that's perfectly fine and extremely common! That's where we come in – at RLM, we have the tools and expertise needed to create a landscape that not only suits your custom needs, but also has the capability to thrive.
Our floral design and landscaping work is quite popular this time of year, and because of that, we've created our customer-favorite Annual Color Program. With this program, we pair you up with your selection of Petunias, Tropicals, Mums and more to pick the colors and plants that you love! When you place your Annual Color Program order, our professionals will work with you to design a layout that fits perfectly with your property's landscape, so you can sit back, relax, and let us bring your vision to life.
For more information on planting or our Annual Color Program, give us a call today or fill out our online contact form. We're always happy to help!