Lawn Maintenance in Northwest Indiana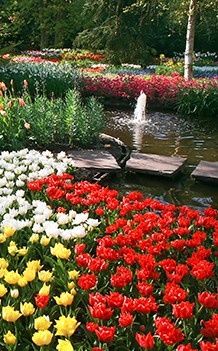 We offer full service weekly lawn maintenance and lawn service in Crown Point, Indiana and throughout Lake and Porter counties. Your home is for relaxing, so let RLM, Inc., the top lawn mowing company in Valparaiso, Chesterton, Crown Point, Munster and surrounding areas, worry about keeping your property beautiful and functional. Our professionally trained crews will mow, trim, weed, and edge at each visit to keep your lawn and landscape looking neat and well-manicured.
In addition to each visit your lawn mowing service will include:
Weeding and fine trimming around the perimeter of your home, posts, trees, etc.
Grass clippings will be blown from all landscape beds, driveways, pathways, and sidewalks.
Concrete drives, sidewalks, patios and curbs will be power-edged, as needed
Mulch Service in Northwest Indiana
Mulching your landscaped areas and tree rings is a beneficial way to protect your plants and soil from erosion and heavy rains. When applied properly, this protective layer will help conserve moisture and improve root growth. Mulch also helps prevent weed growth and moderates soil temperature thus reducing stress on your plants. Before installing mulch, soil is treated with a pre-emergent to reduce weed growth, then RLM, Inc. provides premium organic hardwood shredded mulch, and finishes off with professional bed edging that will provide a crisp, finished look to your property.
Whether you need to refresh a previously mulched area, mulch a new space, or are looking for the best mulch service near Crown Point, Indiana and surrounding areas, the professional team at Ricci's Landscape Management can create the perfect balance of mulching and edging that will improve the overall look of your property, while maintaining the health of your yard and plants. Contact RLM, Inc., the best mulch installation company in Northwest Indiana, to get your outdoor space ready for spring.
Spring and Fall Cleanup Service
Every fall we are treated to a vibrant display of colors as the leaves on the trees change and enter into a new season. But ultimately, these beautiful autumn leaves fall to the ground, covering lawns and flower beds with a blanket of brown colored leaves that can harbor harmful diseases and molds. Similarly, in the spring, after the cold winter months have come and gone your lawn and landscapes are often left with the unfortunate residual effects of heavy snow, ice, and melted salt.
When you sign up for a spring or fall cleanup service, the experienced maintenance crews from Ricci's Landscape, established as the premier Northwest Indiana landscapers, will:
Clean and prep landscape beds
Plant fertilizer will be applied to stimulate growth and overall health
Cut back necessary grasses, perennials, and other deciduous shrubs
Clear lawn and landscape beds of fallen leaves, sticks, and debris
Haul away debris
Regardless of the season, Ricci's Landscape Management is dedicated to utilizing all of the necessary equipment and staff to perform spring and fall cleanups that will restore and prepare your property for each new season.
Our Annual Color Program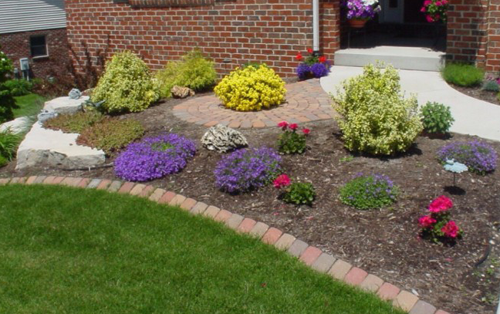 Annual flowers provide your landscape with an abundance of color throughout the changing of the seasons, enhances the curb appeal, and increases the value of your property. Ricci's Landscape Management has maintained great working relationships with the best nurseries in the area and we ensure that only the most visually appealing and highest quality flowers are installed on your property.
When you sign up for our Annual Color Program, you have the option to choose any color or number of: Petunias, Impatiens, Geraniums, Begonias, Salvia, Mums, or Tropicals you feel would look best on your property.
Once we have received your Annuals order, our seasoned professionals will help design a layout that is specifically customized to your property's landscape, prepare existing flowerbeds, or create new beds (if necessary) prior to installation.
An Annual color display from Ricci's Landscape will make a statement about your property and attract the attention of anyone who visits your home or business.
Related Services
Landscaping Irrigation Service Fertilization Mosquito Control